See also: ARF Overview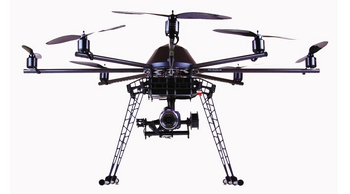 ARF-OktoXL 6S12
The ARF-Okto XL 6S12 is a powerful, fully assembled and tested MikroKopter "Made in Germany". With the increased CFK frame the 6S12 wins clearly of rigidity and gets also a better flight characteristic. And with the new Brushless controller V3, the Motor MK3644 and a powerful 6S LiPo this copter can handle a payload up to 4Kg.
This "workaholic" is ideal for safe and efficient operation. The operational area includes the Film Production, Photography, thermography, inspection, measurement. Also possible are many other applications.
You can fly the copter quickly like a sports car or slow and light as a feather through the air.


== Main features==
There are no Models or model flying skills required
Stable frame construction reinforced with CFK sheathing
Extremely lightweight construction
Payload up to 2,5Kg

compact design (H/W/D => 450/735/735)

GPS and autopilot system including
Autostart und -land

PositionHold, ComingHome, CareFree, Waypoint flight

Auto FailSafe

Auto ComingHome

HandsFree => Hands of the sticks = The MikroKopter automatically stops at the current level and position

Altitude up to 5000m above sea level

Long flight times (Depending on the total weight LiPo, Weather ratio)

5-10% longer flight time

Power supply with 6S LiPo (4x LiPo 6S/4500mAh include)

High landing gear with 30 cm height of passage (Replacement landing gear included)
Optical signaling of e.g. Battery warning or triggering on the photo copter
LOG-Safe (All flight information is stored during flight in a LOG file)

Totally weight <5Kg (include 1x LiPo and standard (Video-) camera)

redundant design (Optional. E.g. required for admission in Austria)
Incl. commercial software license (allows additional features)
Telemetry with voice output: Voltage, capacity, power, altitude, distance, direction, speed, temperature, ...
Introduction to the device incl. Certificate (on demand)
Out of the Box
Four small steps and you can fly:
mount the LiPo Holder

Attach landing feet
Attach receiver
Attach propeller
Fly
No soldering is required.
For the first flight and to practice it is recommended to mount the included EPP propeller. If you then fly with payload, use the also included high-quality carbon fiber propeller.
Transmitter functions
All significant functions of the OktoKopter can be conveniently controlled from the ground:
Pitch / roll / yaw gas to fly
GPS-Mode
Altitude control
camera tilt
Camera triggering (Video Start / Stop or continuous shooting)
Direction of Independent control mode "Carefree"
...
All transmitters you can buy at the MikroKopter shop are already preset for immediate use. Here the functions are optimally positioned for easy use.



example image
Telemetry
All important information at a glance:
The following values are displayed in the Telemetry menu:
battery voltage
Flight time
Used Lipo-capacity
Altitude
Orientation of the copter
Current draw
Number of GPS satellites
airspeed
Distance and direction to the starting position
an error message in plain text
Additionally further information (like the temperatures of the individual motor electronics (brushless controller)) can be retrieved.
Speech output
The transmitter has a built-in speech output. This allows to retrieve e.g all values of the telemetry as an announcement.
So if you use e.g. the GPS switch the transmitter will say "GPS-hold".
Furthermore, important messages (like "Low voltage") are automatically spoken.
Manual
each ARF copter includes a guide with all the necessary information.
Here you can take a look on it:



(To open -> Click on image)
Details
More Sexy
Carbon reinforced frame parts
Huge landing gear
powerful engines
Recommended accessories
Battery charger
Transmitter
(Here you see the transmitter with additional 7" Monitor)
Camera mount
---